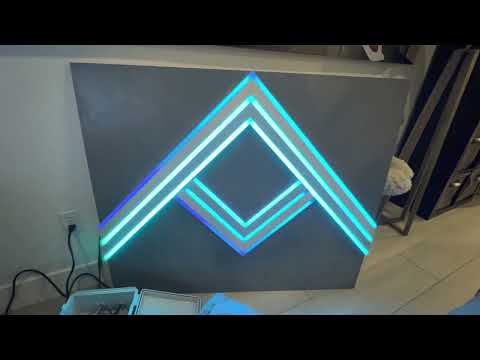 Hey folks! So, a friend of a friend has some private land and is doing a small festival/dance party. He asked me to make some kind of lighting for the stage. I've never built a permanent installation (mostly wearables in the past), and this was super fun to build.
The build is fairly simple - a 40'x48' piece of plywood, muzaca led diffuser channels cut at 45 degree angles, a few pieces of 1x2 pine as spacers, 430 ws2815 leds, a 300 watt power supply (overkill, I know), and a pixelblaze with sensor board attachment.
Huge shout out to the sound sequencer pattern. It makes this thing come alive, and I'm super excited to see how this runs with a proper dj setup and 3.5mm sound inputs rather than the basic mic.
I'll upload some pics of the build process when I get another minute.