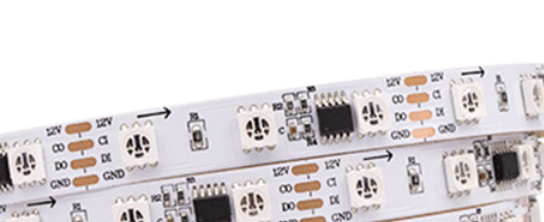 Clues:
The cuttable section is every 3 LEDs. With individually addressable LEDs that have internal drive circuitry, it costs them nothing to have cuttable solder pads between each pixel so they usually do, even for high density 144/M strips.
There's an IC in addition to the LEDs, this means each LED won't have it's own driver, so the one IC must be able to drive 3 RGB LEDs.
The IC has 10 pins only, it would need 9 pins alone just for 3 RGB LEDs driven in parallel, or 6 pins if muxed using some shared pins. It also needs 2 for power, and 4 more for data + clock inputs and outputs. There's just not enough pins.
In the description:
Q'ty of LED: 60 leds/Meter Available
Q'ty of IC: 20 pixel /Meter
The wording is strange, but the gist here is you get 20 pixels per meter even though there are 60 LEDs per meter.
5. For 12V there's only so many ways you can efficiently drive LEDs which only need about 2.4-3.4V each.
6. None of the photos demonstrate individual pixel colors beyond every 3 LEDs, though I've seen fake photos so I wouldn't take it alone.