Not sure if I'm doing something wrong
Pico was configured to connect to a network—Client mode.
Held down button until LED blinks.
Find Pixelblaze_xxx, connect to it.
Wifi Setup page comes up.
I select "AP mode" in dropdown.
I enter SSID and password, click Submit.
The text above the button changes to "Unable to connect to that network". But that's not what I was requesting.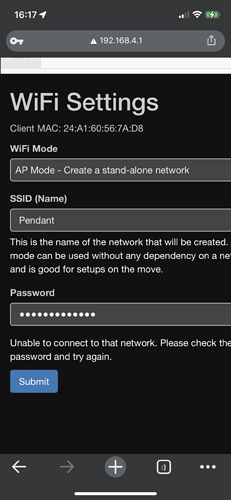 A power cycle still brings it up in Setup mode.
What am I doing wrong? It's running the default pattern at low brightness. Running off a lipo, which normally is fine.