First time post. Bought two Pixelblaze Pico boards to control LED strings for Christmas decorations, and didn't want to take them down. They are still hanging and lit from 6 pm to 11 pm daily.
I've also been playing with Firestorm since the lights look better when synced. Got it first working on Windows then got it working on RPi, but in both cases I have to use PORT=3000 yarn server, which works but stops as soon as I close the terminal window.
Trying to learn Docker, I built an image on the NodeJS base image. After much tinkering, I got it to build and run, but as soon as it runs, it immediately stops with a REPL exit event (again using the yarn server command).
I believe PM2 is supposed to help with this, but I can't get it to work. More specifically, the command line says the server is online, but a browser can't connect to it. Further, a netstat doesn't show any listening port associated with the PM2 PID (image attached below).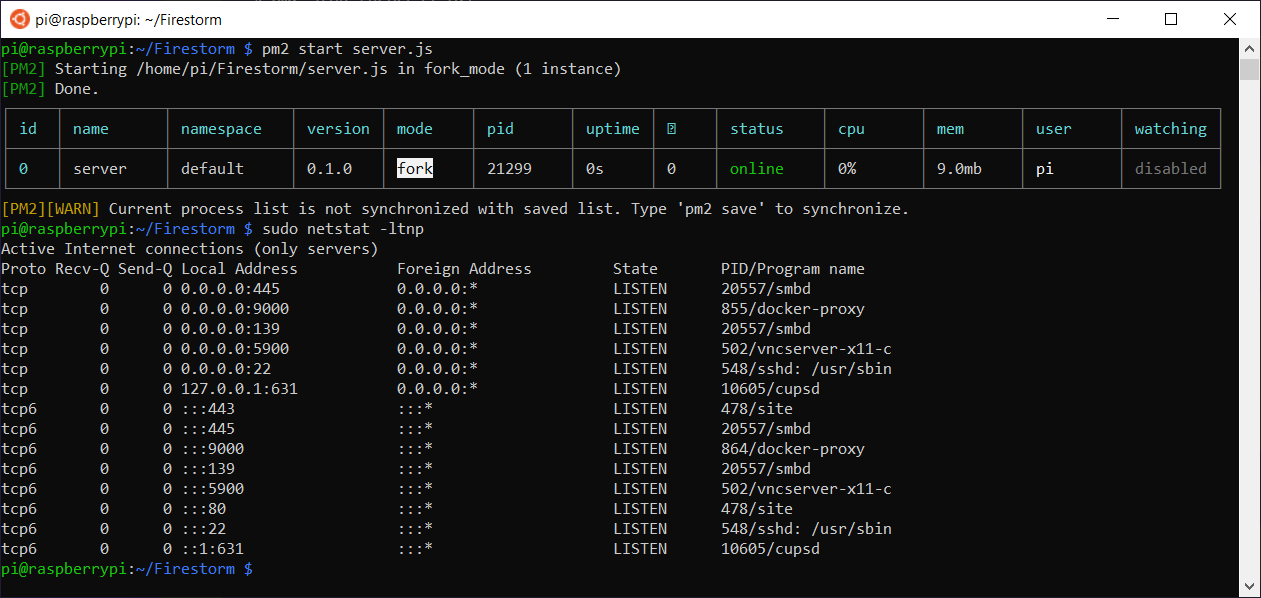 I've gone through the RPi install instructions on the the github page, and the only thing that doesn't work as specified is shown below.
pi@raspberrypi:~/Firestorm $ sudo env PATH=$PATH:/usr/bin /usr/lib/node_modules/pm2/bin/pm2 startup systemd -u pi --hp /home/pi
env: '/usr/lib/node_modules/pm2/bin/pm2': No such file or directory
pi@raspberrypi:~/Firestorm $

Any further thoughts or advice would be most appreciated.
Thanks,
Don