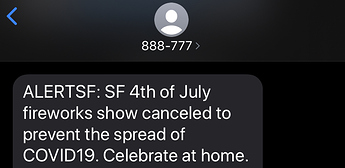 Mmmkay. What do I have around the house that I can throw together in 48 hours?
I'm not feeling 'MERICA this year, but I did want my kiddos to have a show.
July 4th shows usually play a more triumphant section of the 1812 overture (you know, with cannons and whatnot). This cut felt right for 2020

We used some more upbeat, traditional music live.
The code was tossed together last minute and is probably full of bugs so I'll upload it here instead of the pattern library for anyone who's curious. In the video there's also some adaptations of a few of the default patterns: Sparks, blink fade, and of course, firework rocket sparks.
Fireworks 2020.epe (8.7 KB)
Flashbang.epe (2.0 KB)