Hi there. I just got a pixelblaze to try from my friend, and I'm struggling to get any output from it. I've gone to increasingly simple setups. I'm currently just trying to get a single strip of ws2813s to connect to the pixelblaze, with or without the output expander. Settings are 100 brightness, 10 pixels, and I know all my parts work because Im coming from a working arduino setup (just using pixelblaze for wifi hopefully).
The only situation in which they work is when the pixelblaze is connected to my pc via microusb and then the strip is directly wired to the pixelblaze. When I use an external power supply (I've tried two different ones), there doesn't seem to be any data output to the strip, even tho the pixelblaze is connected to wifi and fine.
I have checked:
electrical connections are solid with a multimeter (also simplified the circuit to the extreme)

pixelblaze is findable on discover.electromage.com and is connected on my network

tested multiple settings on the ui page.

Reset the wifi config a few times just in case.
Been banging my head on this for a bit, and strange that my friend didn't have problems with it. Am I missing something obvious? Are 2813s not supported? Why do they work when connected to a computer?
Here's the base setup i've tried, with the expander and without (changing the settings accordingly…)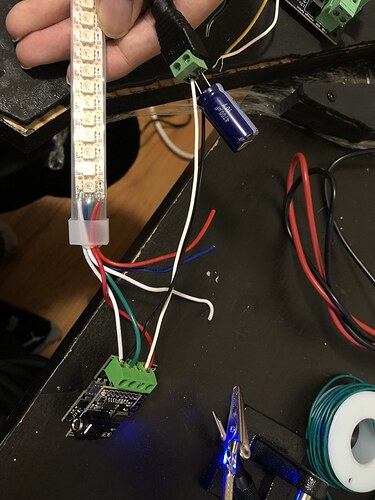 I have pictures of with the channel expander too but it wont let me put a second picture in here.