Hi all,
I'm trying to do the pixel mapping for my chain jewel LED bikini outfit. You may have seen this video posted on my instragram (https://www.instagram.com/tv/CHUAsSDA9uN/) or youtube (2020 Miss Jie Couture Collaboration - YouTube).
This original version had a single PixelBlaze V3 driving both the top and bottom so wiring was a mess and it was not mapped.
I've made a new version with proper routing in simple zig zag form, and I'm now driving the top and bottom with two separate PBV3's.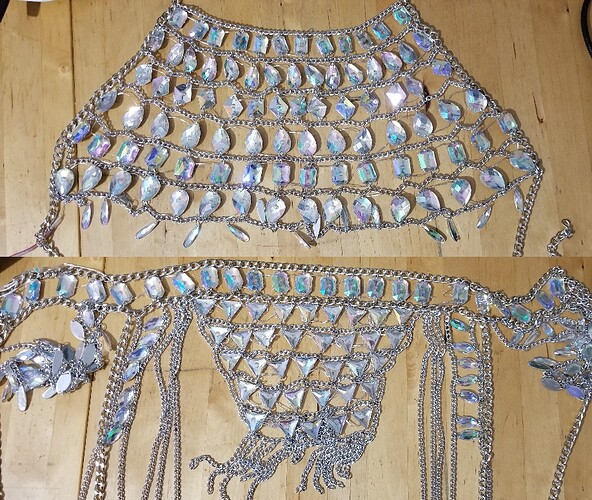 In my first mapping attempt, I used the online pixel mapping tool to create separate maps for the top and bottom. That worked perfectly but as expected, the top and bottom are completely independent. Even with firestorm they're synced on the same pattern and timing, but it's two separate copies of the same pattern.
SO here's my question, what's the best way to combine these two maps and two separate PBs to show one single pattern, half on top and half on bottom?
(for simplicity, let's say the top and bottoms each have 50 pixels so 100 total)
I again went to the online mapping tool, this time with a single picture of both top and bottom. I loaded my new single map of 100px into both PBs and set the pixel count to 100, and was thinking I might do something like if(index<50) on the top (works fine) and if(index > 50) on the bottoms but of course the bottoms are just dark because they only have 50 pixels so I tried if(index > 50) index -= 50 but index doesn't seem to have any effect on x/y obviously so not sure how to tell it to get the coords from map[index+50] and use those xy instead if that even makes sense.
I of course could split the single 100px map coords into two maps, and have 1-50 on top and 50-100 on bottom still mapping the xy of 50+ to index 0-50 on bottom, but I run into the problem where if I'm lighting a simple single pixel from 0 to 100, the top and bottom will both start at 0 where I want the bottoms to wait until index is 50 then start at their 0.
I hope this makes sense and any help is appreciated, thanks in advance.