As discussed here
Teaser photo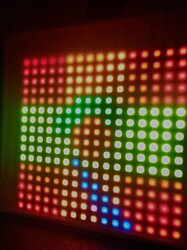 Video was too big, even at 9megs
I haven't fleshed out all of the bits and pieces that would make this 100% fully functional to my vision yet.
But it's working. The above is a quick snapshot of 5 different "submaps" plus a default background, running 6 different patterns (most of which are just different variations of pulse, with different color, wave, and timing)
Layered, multiple maps, with potential to renormalize or not (including to renumber pixel index and even pixelcount), fed by multiple patterns, with each map having it's own section and pattern, and because it's layered, you can set arbitrary map boundaries, and the top one is the visible one over the bottom one. So for example, the center spot is one map in front and there is a larger circle behind it.
It's quite simple in code, but I want my demo to flesh out the options better as documentation/example code. I haven't taken advantage of the renormalize or reindex yet, for example, and I want it way more impressive than just some pulses.
This is reason #27 for making all patterns be mapped, but then again, if I can "fake" the index and pixelcount for any given map/pattern, might not matter.