I'm fairly new at this and hoping someone can help out. I'm working on a music festival totem which will be an infinity prism in the shape of a rhombic dodecahedron. Here is a picture of my working model if you have no idea what I'm talking about: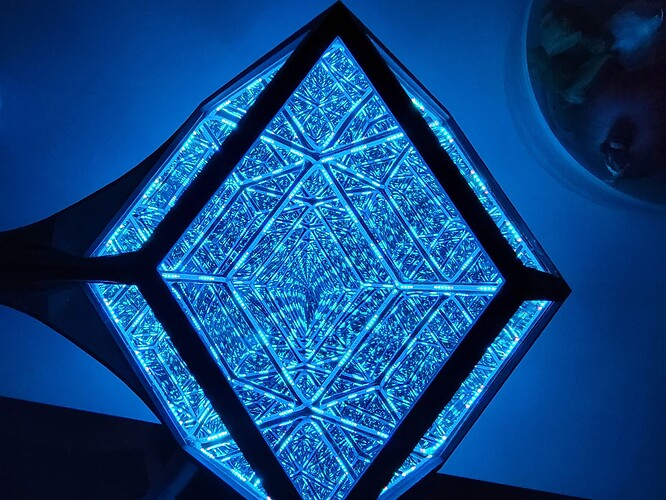 I'm running a Pico V3 with an output expander, WS2812C-2020 LED strips, powered (currently) by a 5v 2.4a Lithium Ion battery (or sometimes a 5v 2.4a wall adapter when testing).
I don't feel like I'm running a ton of LEDs, but if I turn the brightness up beyond 20% everything stalls out if pattern shows all white. I'm guessing that I'm drawing too many amps, but not sure if the limitation is the pico, the output expander, the battery/wall adapter, or something else in the chain. LEDs are rated for max current of 6 amps.
I'm running a total of 960 LEDs, even output channels (and channel 0) have 160 LEDs each, and odd channels have 80 LEDs each.
Can anyone tell me how to figure out where my issue is and how to solve it? If I just have to limit the brightness to 20% its not the end of the world, given the pixel density the thing is still bright enough, but if I had my way I would prefer to pump it up to around 50%.