Pixelblaze V3 is Launching on Crowd Supply!
Calling all Pixelblaze magicians!
The latest iteration of Pixelblaze, the Pixelblaze V3, brings more computing power and a smaller form factor so it can be used in even more creative ways, both larger in scope and smaller in size.
What's New in V3?
Here's a summary of the improvements in V3:
New Pico form factor option
ESP32 dual-core 240 MHz processors
Twelve GPIO supporting more analog inputs and/or touch sensors
2X to 2.5X faster pattern performance
5X more array elements and 2X more global variables available to patterns.
Faster Wi-Fi, more responsive web interface, and WebSockets API!
Easier Wi-Fi setup
New patterns with much improved documentation and comments (thanks, @jeff!)
Pixelblaze V3 adds the power of the ESP32 processor and usability enhancements, paving the way for more advanced patterns and features. The physical differences of the standard Pixelblaze form factor are intentionally minimized so that V3 is compatible with existing V2 expansions and mounting setups.
Also, the new Pixelblaze V3 Pico form factor is the smallest and most powerful LED controller made. It was designed for minimal size, while having the same ESP32 firepower of its larger sibling. The Pico can be hidden away more easily and used in smaller places. The Pixelblaze Pico is only 11 mm x 33.3 mm (366.3 mm²)!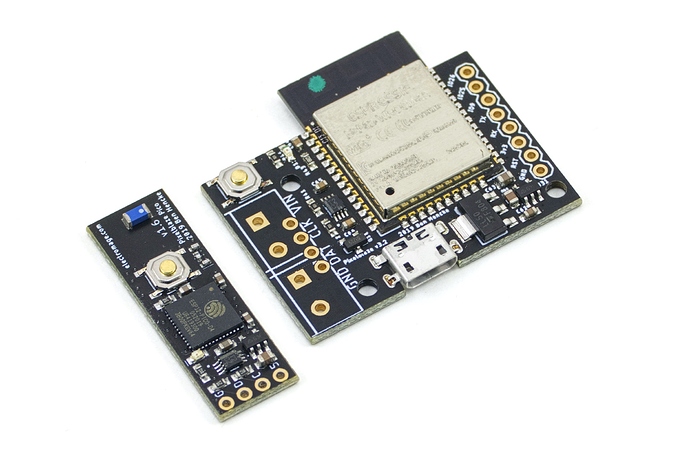 How Can You Help?
We want the Pixelblaze Crowd Supply campaign to be a huge success, and that means bringing more people into the Pixelblaze community and getting the word out about the campaign.
Right now, you can sign up for notifications when the CS campaign goes live. Let folks know about it! Tag #pixelblaze on social media and show folks your beautiful LEDs.