Setting up Pixelblaze V2+ and a 2 meter strip of WS2812 LEDs. I followed the Getting Started webpage to wire it up, CLK is not connected according to the directions. I'm using a ALITOVE 5V 10A 50W Power Supply for the LEDs and a 5V USB power supply (Apple) for the Pixelblaze.
With only the USB power supply plugged in I get 1 amber light and 1 blue light on the Pixelblaze and the first LED on the strip illuminates with RGBW. However, when I plug in the ALITOVE power supply the light on the LED strip goes dark, lights on the Pixelblaze remain the same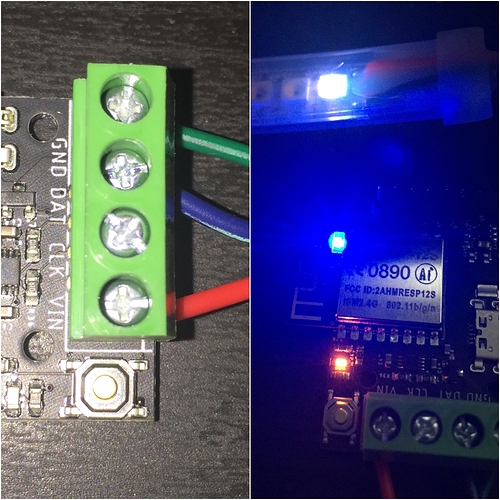 .
I was able to setup and configure the Pixelblaze with my WiFi network, no issues. Comes up in a webpage and I get the options Patterns, Edit, Mapper, Settings Get Patterns, and a Brightness slider. On the other side of the header I get this: Status:Connected v2.23 FPS:479.52 Mem:2035 Exp:-
When I select a pattern and click on Start Sequencer the preview shows at the top of the webpage but the LED strip never does anything. So far the first LED is the only one to illuminate and it just stays at full brightness.
Any ideas on what I am doing wrong?
Thank you.