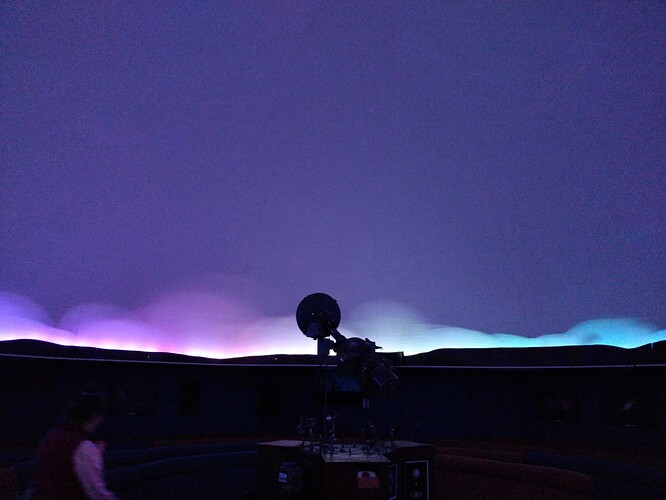 Hi,
I'm attempting to add an annular sunset animation to a planetarium, but I'm a little out of my depth.
The idea is to have this ring of 630 (x3) LEDs around the room run through some soothing sunset colors and drop to zero light over the course of about two minutes.
With a bare bones example that goes Yellow light → fade to darkness, everything works well until the last ten steps or so where the light level in the room appears to go "KaCHUNK!" "KaCHUNK!" in big jumps because there are a lot of LEDs and they're the only light in the room during this animation.
I'm betting that the level can be smoothed out a bit by only dipping one or a few LEDs at a time, instead of the entire ring, but getting some sort of "random selection until every LED has dropped one level" is escaping me.
I'd appreciate any advice or input. Thanks!
What I'm playing with from one of the demo scripts:
seconds = 0
delta_acc = 0
running = 0
duration = 120
pixel_h_step = array(pixelCount)
pixel_h_acc = array(pixelCount)
progress = 0

export function triggerBeginSunset(){
  running = 1
  seconds = 0
  delta_acc = 0
  progress = 0
  for (i = 0; i < pixelCount; i++) {
    pixel_h_step[i] = random(0.002) - 0.001
    pixel_h_acc[i] = 0
  }
}

export function triggerReset() {
  running = 0
}

export function inputNumberDuration(s) {
  duration = s
}

export function beforeRender(delta) {
  delta_acc += delta
  while (delta_acc > 1000) {
    delta_acc -= 1000
    seconds += 1
    for (i = 0; i < pixelCount; i++) {
      pixel_h_acc[i] += pixel_h_step[i]
      //pixel_h[i] = clamp(pixel_h[i], -0.05, 0.05)
    }
  }
  progress = ( (seconds / duration) + ((delta_acc/1000)/duration) )
  t1 = time(.25)
  t2 = time(.15)
}

export function render(index) {
  if (running) {
    
    //h = 0.06 + pixel_h_acc[index]
    
    shift = (0.02 * progress)
    shift = shift * shift
    h = 0.06 - shift
    //h = 0.06
    //s = 1 - (s * s * s * s * s)/2
    s = 1
    
    v = clamp(1 - progress, 0, 1)
    
    hsv(h, s, v)
    if (v == 0) {
      triggerReset()
      v = 1
    }
  } else {
    rgb(0,0,0) 
  }
}