Howdy Blazers!
I have a Sensor Board and am attempting to feed audio to it from my computer. It has an older sound card in it, but claims to be sending out the correct level. I took the advice from @wizard and ordered a Ground Loop Isolator, but it doesn't help. Stepping up the game, I ordered a LOC (Line Out Converter) that takes a speaker-level, amp'ed signal and knocks it down to line-out levels.
I've sketched out a drawing of how the test was set up:
PC → Splitter → Ground Iso → LOC → PB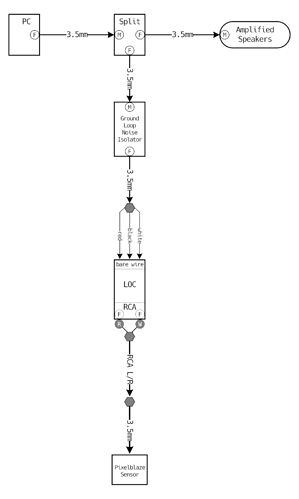 From what I can tell, there is simply too much noise from the PC to filter out with this setup. So noisy, in fact, that the equalizer pattern looks nearly the same if I am sending it music or not. (The splitter is so I can monitor the sound level coming out of the PC. Also note that the Red/White/Black wires are for one channel, I didn't draw the other three wires. There are 6 wires on that side of the LOC - I tied the grounds together.)
Bad Sensor Board? NO!
Here's the nail in the coffin: Straight from my phone's headphone jack to the Pixelblaze works perfectly. The equalizer pattern is off when there is no music, and responds appropriately when there is!
So, must be this PC? NO! I've a second nearly identical PC and the results are the same with the first PC. Augh. Do I have an electrically noisy environment here? I don't believe so, as I did take care when I moved here to limit what was run where, no fans, several isolaters, etc. sigh
I'm just wondering what to try next. Thoughts? Ideas? Incredulous Comments?
Thanks for your time.