Hi All!
I am super new to electronics and need help making sure my setup is correct so I dont damage my lovely equipment.
In summary I have:
9m of APA102 LED Strip (amp requirement calculated at about 10 amps)
300W 60A Power Supply (AC 110/220V to DC 5V)
I intend to do some power injection so that I do not encounter voltage drop. I think I equipped my system to handle full brightness/white/frequent pattern shifting
Attached below is my current wiring diagram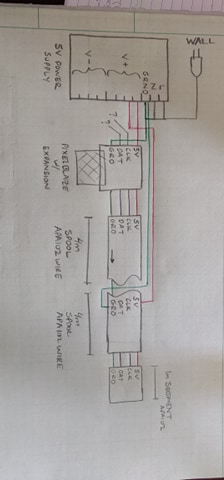 For power injection, I will solder or gator clip an AWG 18 Cu from the 5V terminal on the strip to its own V+ screw on the power supply per 4m segment. Is this correct?
Will the strip, the power plug, and the pixelblaze controller all share a ground screw? I would think so but wouldnt that make that ground screw super busy? I worry I may run out of room in the power supply's ground terminal and as a result, the screw doesnt hold the wires tightly.
For the pixelblaze controller itself, I understand that the red 5V wire should go to the V+ terminal on the power supply. What do I do with the remaining CLK and DAT wires? Do they go on the V- terminals of my power supply? Or do they just hang freely for not being used?
I have AWG 18 Cu wire and need to ground the pixelblaze controller, which uses AWG 20 Al wire. Can I combine the two types of wire? I tried feeding the 18 Guage to the ground terminal of the controller but it wont fit properly so I think I might end up simply splicing leftover 20 guage and attaching that to the ground screw. Is that correct?
Finally, I intend to have the expansion connected to the pixelblaze as shown. I did not want to deal with clearances by stacking them. Is it safe to directly solder as is? Can someone show me how they soldered theirs?
Ive learned a lot about electronics just from attempting to put this all together. I just want to make sure what I have currently is safe and feasible.
Thanks so much!