I'm building a non-copyright infringing "magic sword". Nope. Definitely not a lightsaber. Will update it as I go.
My goal is to make something that I can use for LARPing, assuming that in-person play will resume at some point. It needs to be mostly impervious to the elements, and to stand up to light to moderate contact. It will also amuse my martial arts friends (who will all want one), and annoy my SCA friends (who sadly, do not admit the existence of magic into their universe).
I'm still working on batteries. After the CPU and blade mount, the handle still has room for something about the size of 2 "C" cells, so I've got some flexibility there.
Here's the blade assembly with one spacer shown, and the CPU cage assembly (helpful assistant shown for scale):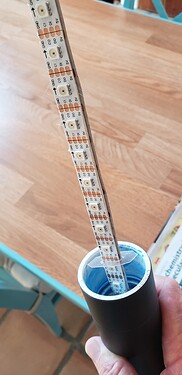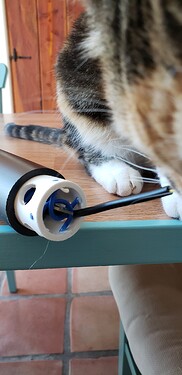 Here's super slo-mo video of my impact test – me smacking a piece of the blade material with my white oak bokken, which I've used for serious sparring for many years. After this test, the PEX had a small scuff mark.
Just for the sake of completeness, here's the GIF from the first test run again.