Hello Pixelblaze folks!
I'm making some tweaks to the UI in V3, and I'd love some feedback. Let me know what you think!
The first image shows off most of the changes.
Add a render indicator to the left of the preview: 1D, 2D, 3D, or if you have e.g. a 2D only pattern selected with no pixel map and nothing is rendering. I hope to improve on that a bit more too - this seems to be a common source of problems.
Move brightness to this bar to reduce clutter in menu, and for other reasons (see below)
Move pattern controls to this bar as well, instead of inline in the pattern list. Since it's now right by the preview you'll be able to see the effects on the live-preview more easily.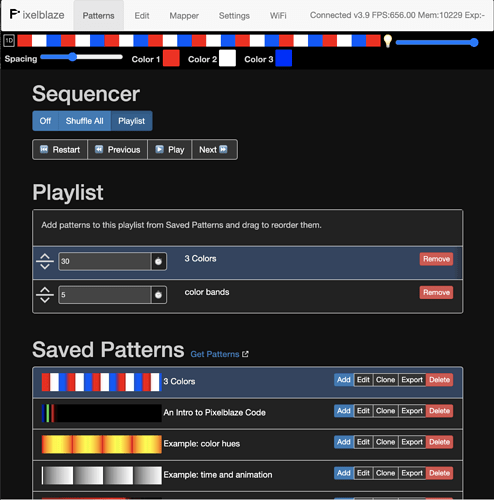 This lets you see and access controls a bit more easily when working with playlists as well, which can be on top of the pattern list for smaller screens. BTW if you haven't seen playlists yet, its another V3 feature.
I also wanted the preview header visible when you scroll down on the page, and with both brightness and pattern controls moved to this header, you can now get to everything you need when you are scrolled down.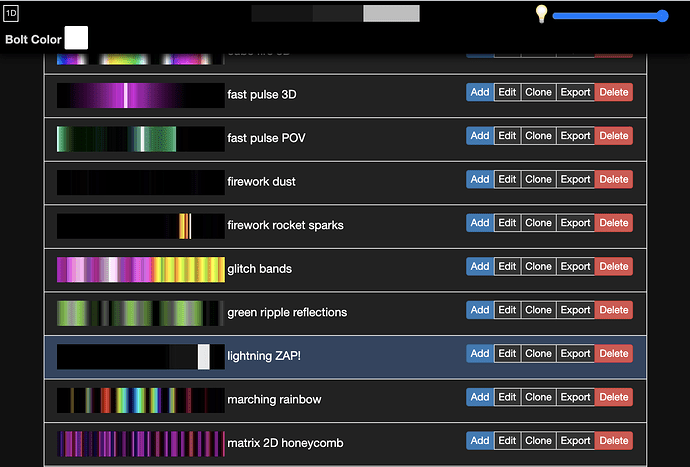 This works in the editor as well, controls are no longer in the sidebar, and you can see the preview + controls even if you are scrolled down a bit on the page.
Either loading a pattern or editing editor text regenerates the controls in the shared header (it doesn't make sense to try to have both) and it should always match what's running.
Again I'd love some feedback. Let me know what you think!