I'm trying to wire up a button without really grasping exactly how it all works, so even though I have two options, it's very likely that neither will work, and in that case any help pointing me in the right direction is appreciated.
I want the LED on the button to be off, and turn on while the button is pushed. I want the PB to do something once each time the button is pushed. Do I need to connect the LED- to ground? Or can the input pin on the pixelblaze act as a ground, and then see that the button is pushed when the voltage drops?
This is my attempt at a diagram to explain what I mean: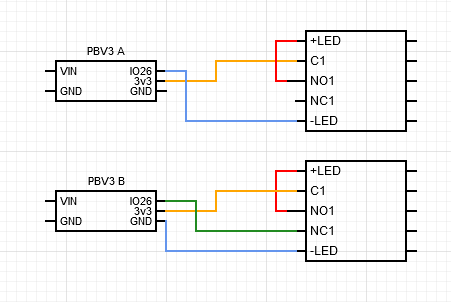 The one labelled PBV3 A is the "no ground" one that I'm asking about. But I also don't really know if the "B" version will work. Or, if it will technically "work" whether it is the correct way to wire the LED on a momentary switch.