Hey Guys,
New here, and have my first PixelBlaze on it's way!
Have a bit of a project that has been in the works for a while; started it off with an Arduino Uno and HC-05 Bluetooth module, though since I'm quite new to this hobby, I think that the PixelBlaze may be more suited to watch I want to achieve, in terms of ease of setup, and use.
End goal is to power 2x 24 WS2812 LED Neopixel Rings, and 2x 8 WS2812 LED Neopixel strips in series, with the layout as follows:
power/data in > - > O > O > -
(- = Strips)
(O = Rings)
Photo for reference with position of the LEDs that will be behind the dials.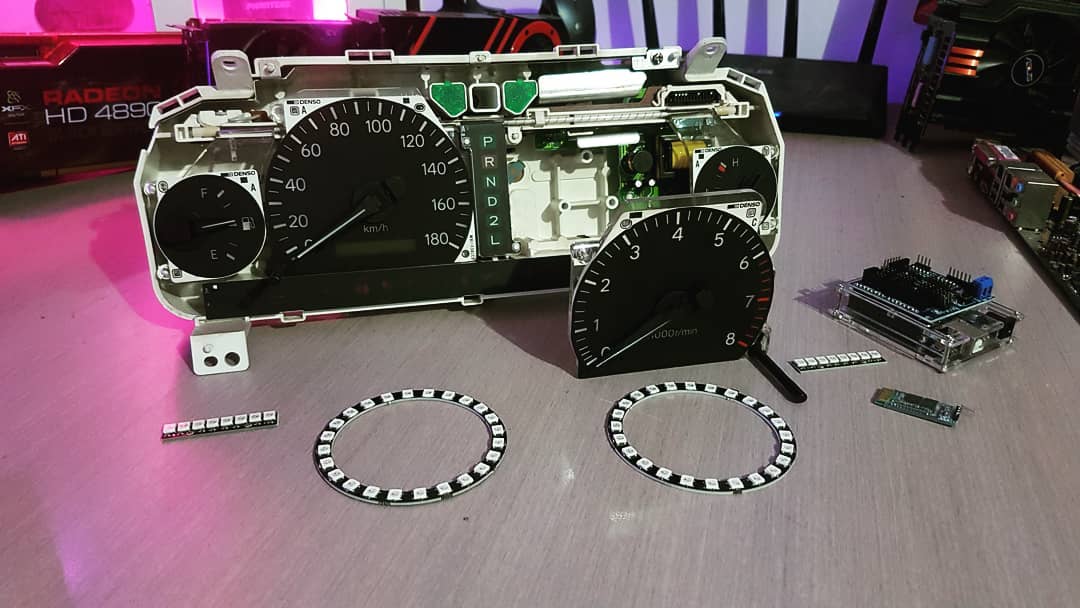 Now, I have also got a 12V to 5V 5A DC-DC converter, as I plan to run this in my car off the battery.
My main question here is whether I will need the step down converter, or whether the PixelBlaze will power all 64 LEDs? And if I will need the use the step down converter to power them, should I just use it to power the LEDs & and PB?
Also, on the coding side of things, I am ultimately wanting the rings, and the strips to have their own 'sections' so I can give them individual patterns/colours, though as the most important part is having a single, solid colour for driving, and then worry about patterns, sections, etc later for the likes of car shows. But I'll be sure to take any thoughts or advice into consideration for when the time comes.
Video of what I managed to achieve with a single ring, on an Arduino Uno.

And here's the first iteration of the project, which was just a strip of standard non-addressable RGB LEDs, controlled via a pre-made app using bluetooth.